Workshops for Families
A list of upcoming events
The Right to Eat Right: A Client's Journey in Venture Philanthropy and Impact Investing
Hosted By Forthlane Partners
Thursday, March 3rd 4:00-6:00pm EST
In-person session at Forthlane's office: 145 Adelaide St. W, Toronto, ON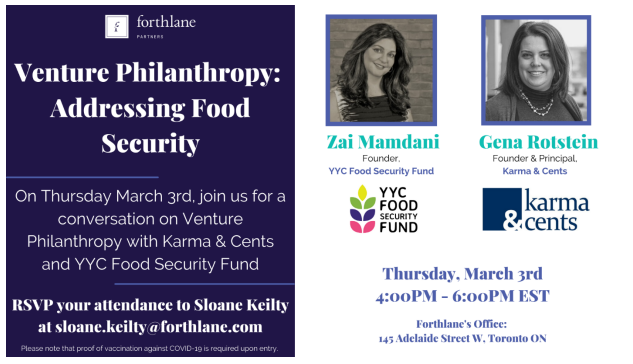 Join fellow philanthropists, impact investors and those curious to learn more about how venture philanthropy can re-shape complex problems in a community. Zai Mamdani, the funder behind the
YYC Food Security Fund
will share her personal journey as she uncovered the complexities of our food system and the role that both traditional philanthropy and investments can play in solving some of the complex problems in the food chain.
This event is FREE thanks to our generous hosts, Forthlane Partners.
Light refreshments will be served.
COVID protocols will be followed.
To read more about this project please download the Executive Summary, or visit our Whitepapers section on this website for the full report.
Philanthropy 101 – Seven-Part Course for Family Foundations and Individual Philanthropists
Next cohort starts June 2022
This seven-part series explores topics that every family foundation struggles with, from governance and inter-generational dialogues to charity assessment and evaluation. We have designed this series to allow for cross-pollination of ideas from participating families in an effort to foster community and leverage the collective wisdom and resources of the group.
This course is for individuals and families looking to set up a foundation, existing foundations that are on-boarding new leadership (family or non-family), or those that are re-examining their purpose and mandate. We will be bringing forward case studies that will be most pertinent to those in the cohort so each course will be unique to those who are attending.
Learning Outcomes:
A clearer understanding of where and how best to gain more bang for your
"social buck"
Understand the funder table dynamics. Identify your foundation's blind-spots
and how to manage them
How to affect the change you want to see beyond your cheque-book
A clearer understanding of the issues facing the different regions in Canada
Develop skills and tools for on-boarding the Next Generation and strengthen
your legacy
How to identify pitfalls and avoid blind spots
Gain skills in the area of grantee evaluations and funding opportunity
assessments
Investment:
$1900 + GST/person
Family Foundation Discounted Rate (up to 3 members):
$1400 + GST/person
Join us for this very unique seven-part course on the Foundations of Family Philanthropy.
Reserve your spot before it's filled
See what we've been up to.  Click to see a list of past Karma & Cents
Advisor and Family workshops.   
Are you ready to take the
next step to Philanthropy 3.0?
Our Address
Suite 210
333, 11th St. SW
Calgary, Alberta, T2R 1L9
©2017, Karma & Cents inc. // Karma & Cents is a registered trademark