Local Investing YYC 
Impact Investing is based on  "do well while doing good" with one's investment. By making purposeful and intentional investments, you can make financial returns while achieving social or environmental goals.
In 2017 a group of Calgarians formed Local Investing YYC, an impact investing cooperative. The mission: to allow Albertans to invest in the Calgary economy for a sustainable future. To date, 108 capital investors have participated in two capital raises totalling $1.3MM to support eight Calgary-based companies.
These companies are not only good for the economy, but they are also good for the community. All companies are social-purpose businesses, businesses that exist to make the world a better place. By linking societal and financial agendas, they take on community impact projects creating a positive impact for people and the planet. They take an active, community-led approach, to partnering on with local businesses to grow their impact and deliver strong financial, social and environmental returns to our community investors. 
The investment model removes barriers for Albertans to invest in the local economy for a sustainable future. Investment shares are RRSP and TFSA eligible and are $5,000/share. Their vision is to be a leading impact investor in Alberta, supporting resilient, inclusive and stronger communities for the long-term benefit of Albertans. 
Curious to learn more? 
Check out Local Investing YYC's investor presentation
Join an upcoming info session. Dates and registration details are available here.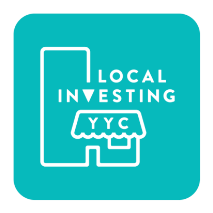 Are you ready to take the next step to Philanthropy 3.0?
Our Address
Suite 210
333, 11th St. SW
Calgary, Alberta, T2R 1L9
©2017, Karma & Cents inc. // Karma & Cents is a registered trademark