#GivingTuesday Global Day of Giving, November 27, 2018
Calgary, Alberta – Since 2013, #GivingTuesday, a global giving movement has been driven by charities to increase donations from individuals, businesses and communities across Canada and in countries around the world. This year, GivingTuesday is on Nov. 27, 2018; just as Black Friday kicks off the holiday shopping season and Monday is CyberMonday when online holiday shopping deals are announced, GivingTuesday is the opening day of the giving season.
For the past several years North Americans have been solicited on #GivingTuesday through special campaigns, many of which reinforces the hands out approach to charity, "Please sir, can I have some more?" A day when, after your bellies are filled with turkey (if you are American) and you've rushed the stores for the best deals, you then assuage your guilt by making a donation to charity. This year, Karma & Cents is aiming to change the conversation around GivingTuesday to help build a culture that gives smarter.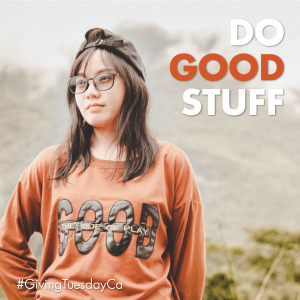 As posted on the GivingTuesday website, "The impact of GivingTuesday goes well beyond charitable donations, inspiring giving in all its forms. From coast to coast to coast, people are embracing this day as an opportunity to raise money for local charities and non-profits, run food and clothing drives, give blood, encourage kindness, help a neighbour and celebrate generosity."
Donor Fatigue & GivingTuesday
As a company, Karma & Cents prides itself on helping families and family enterprises move from Traditional Philanthropy to Philanthropy 3.0. GivingTuesday reverberates with everything that is wrong with how charities are set up to fail by reinforcing a funding model that is not sustainable.
In Canada are over 90,000 registered charities, imagine if there was even 10% uptake of organizations increasing their solicitations in Canada. Donors have repeatedly said they are tired of the multiple solicitations, the apparent duplication of services in the sector, the lack of operational effectiveness resulting from this duplication and the increased reporting in how funds are just not enough to address the problems. Yet with all this coming at charities from their financial base, organizations continue to ignore the very people who finance them.
"Any business model that requires an annual ask for an increase in a donation and cries poverty or crisis begs the question as to its viability," says Richard Ouellette, Managing Director at Karma & Cents. "That isn't to say I am against traditional philanthropy – if that is what it is – The Love of Humankind. What I struggle with is an industry that is designed to fail because it is judged on how much it spends on overhead (businesses would call this investing in operational effectiveness and leadership) to how much it costs to raise a dollar (businesses would call this business development)."
Strategic Philanthropy & GivingTuesday
This #GivingTuesday, Karma & Cents challenges you to use this opportunity to engage with charities in meaningful dialogue. "We have industrialized the social problems that charities were originally set up to solve and we have created a tax regime that incentivizes any type of giving instead of smart social investments," says Ouellette. "Imagine, if on #GivingTuesday we talked about the cost associated with NOT solving the problems that charities are asking funding for. Do you think we might actually come up with financial models and requests for support that were aligned with financing solutions instead of funding problems?"
To find out more about Philanthropy 3.0, or about giving smarter, please visit the Karma & Cents website www.karmaandcents.com.