Earlier this year I was interviewed by Tracy Nagai from Global TV about the Poppy Fund and charity evaluation.  The piece aired on January 24th, 2018. Also interviewed was Kate Behan from Charity Intelligence.  Kate and I do not evaluate organizations the same way, in large part because, at Karma & Cents we put our donor's risk profile and social vision at the centre of the equation. Putting the donor at the centre of the equation is done for a number of reasons; most importantly because the financial metric that has not been adopted as an industry standard.
When we sit down with a charity to explore how they fit in with a client's giving portfolio or legacy plan we ask two questions:
What would society look like if this problem wasn't solved?
What does it cost maintain status quo of this problem?
From these two questions we start the charity evaluation process.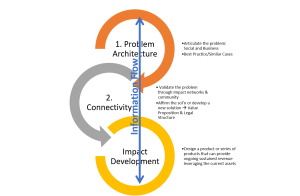 Our process works through a Social Impact Lab, bringing together strange bedfellows who are exploring this problem from a variety of perspectives. In a recent Social Impact Lab, a variety of types of organizations and experts were represented: academia, government, front-line charities, donors who have been involved in the funding space for years and client representatives, Through this process we put a stake in the sand by articulating the problem that will be addressed, funded and measured.  It allows the implementation bodies to work together, design a solution and rapidly deploy that solution to the market and test that it is on track. Ultimately it also provides those same entities the space to pivot should the solution not be working.
Evaluation Benchmarks
It is important to know what the underlying analysis is of third party evaluators.  Our approach is to evaluate charities the same way you would review a business before investing, then we add a layer of emotional connection, socialization and donor risk tolerance.
Leadership & Governance
Program Implementation
Administration & Volunteerism
Financial Management
Competitive Analysis
Community Perception/Engagement
Within these five categories we break things down to get a clear picture of:
How funds are raised and allocated, specifically so we can understand how they are investing in their own operational effectiveness.
What is required to achieve the mandate of the organization and who is fulfilling the mandate.  In shorthand – do they have the right people sitting in the right seats on the bus.
What type of board is running the organization – how engaged is the volunteer leadership?  Do they have the policies in place to protect the rights of the donor and the interests of their strategic partners? Do they have the right skill-set on the board to be driving the organization strategically?
Who else is offering similar services? What other funders are supporting the organization? Is there way to create a long-term continuum of care/investment? Is there a role for the donor to act as a facilitator of social change by convening the different organizations and some other funders to develop a strategy around the social issue?
What is the public perception of the organization?  What do their clients/end-users say about the agency? What have other donors said?
Our evaluation process takes time. We interview leadership, meet with stakeholders to get an understanding of the marketplace and provide feedback to both our client and the charity so that we can foster a strong relationship between the two.  We see our role, as Philanthropic Brokers, to connect the dots and then step back and let the "magic" happen.  Sometimes the magic occurs immediately, like when a child donates his birthday money to a cause.  Sometimes the magic takes time to materialize, it could even be after the initial funder has passed on, "The true meaning of life is to plant trees, under whose shade you do not expect to sit." (Nelson Henderson)
It has been my experience that charities want to disclose what they are working because it is in their best interests share their story.  We, as donors, need to be comfortable to ask the questions that will enable charities to share what we need to know to make an informed decision.
Where to Start
Of course, the best way to evaluate a charity is to go and volunteer.  See how the organization operates, who are involved and how they will engage you.  Do a "gut check", do you feel welcomed? Do you have a sense that things are operating smoothly?  Were you given access to relevant information to help you make an informed decision?
At the end of the day, it is up to you to make sure that the charities you support are meeting the requirements and standards that you have set out for yourself.  It is also up to you to articulate those expectations when you make your contribution.  Your donation is a transaction based on an emotional experience.  So honour that and HAVE FUN!!
The best way for people to learn is to hear how others are evaluating the charities that they support.  Please share how you choose to select a charity on this blog or your favourite social media platform. You can find us on Twitter @KarmaAndCents